Behind the Scenes at a Car Dealership
Do you ever become frustrated with why it can take so long to buy a car? Have you questioned if the salesperson really has to check with his manager to get a deal approved? Do you want to know why a car salesman can't just give you his best price upfront?
Things may seem guarded or secretive by dealerships when shopping for a car. I want to give you an inside look at how complex car dealerships operate by providing you with a behind the scenes look at what's happening when consumers buy cars. Check out these helpful tricks and tips that are simply explained. They may save you both time and money when purchasing your next vehicle!
I've been in the automotive industry for more than 18 years and have managed and owned car dealerships in General Motors, Ford Motor Company and Chrysler, Dodge, Jeep, and RAM franchised brands. I'll provide some insight on my experiences as a new and used car salesman, sales manager, internet sales manager and finance and insurance (F&I) manager providing you with some insider information most car buying consumers are not aware of what happens behind the scenes.
HOW THE SALES PROCESS WORKS AT A CAR DEALERSHIP AND WAYS YOU CAN HACK IT TO SAVE TIME GETTING YOUR NEXT VEHICLE!
We also wanted to take a moment and ask a common question customers have when working with car dealerships. "Why does it take so long to buy a car?"
To first answer that question, usually one of two things is going on, or maybe both: You're shopping on a weekend or you may not have all the documents and information you need to do a car purchase. Foot traffic at car dealerships is lowest on Tuesdays and peaks on the weekends, when most people have their days off. While there may be plenty of salespeople on the floor, the bottleneck typically occurs at the finance and insurance office (also known as F&I — we'll talk more about that later).
In the finance office, a manager will likely offer an extended warranty or other products and, of course, this is where you'll sign the sales documents. Fewer people work there and each customer might be talking to one of the finance managers for 30 minutes or so. While all this is going on, your new car is being washed, gassed and prepped for final delivery. If that process doesn't sync up exactly, you might have to wait a while longer for the car to be ready.
The other thing that takes time is the deal itself. The average car sale takes about three to four hours. I know it sounds like a long time. However, there are a lot of moving pieces to it. The dealership needs to run your credit, get your loan approved, appraise the car you're trading in, figure out the pay-off amount to your current car and agree on a price for the new car you want to buy.
Now, if during all this, you forgot a key piece of the paperwork, everything can grind to a halt. So be sure you have the following ready: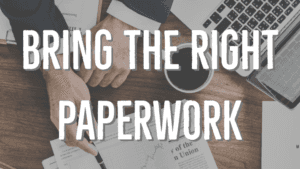 Payment: This can be a bank or credit union check for a pre-approved loan, or it can be a cashier's check, a personal check or even a credit card payment for a down payment when the financing is done at the dealership. To find out what forms of payment the dealership will accept, call ahead of time and ask to speak with a finance manager.
Driver license: You have to drive the car off the lot, so the dealer needs to know that you are a legally registered driver. The driver license also serves as identification for your check or another form of payment.
The title for your trade-in vehicle: If you are trading in a vehicle, you will need proof that you own it. The title, sometimes called the "pink slip", shows that you are the owner.
Current vehicle registration for trade-in: If you are trading in a vehicle, you will need a copy of your current registration. Locate this important document, verify that the registration is current and also check that the sticker is on the license plate.
Proof of insurance: To drive a new car off the lot you need to prove you have insurance on that car. You can call ahead and set up the new insurance policy if you know which car you are buying.
The account number for trade-in loan: If you are trading in a car for which there is an unpaid loan, you will need to bring the loan's account number, which is on one of your bills from the auto loan. Better yet, call the lender yourself, explain that you are trading in the car and ask how to facilitate the transaction. The key ingredient you need from your lender is what is commonly referred to as a "10 Day Payoff". This is the amount you owe on your current vehicle plus 10 days interest that is required to be paid before you can trade in the vehicle. A Dealership will facilitate the payoff, you just need to have your "10 Day Payoff" document with you.
In Summary… Have Your Paperwork Ready!
It's easy enough to blame the dealership for an extra-long sales process. However, when the current paperwork isn't provided, it makes the deal that much longer and it feels slow-moving to get a vehicle. If the deal is extremely slow, the reason is simple: Buyers arrive at the dealership unprepared. The first tip for a speedy sales process is to go to the dealership with the right paperwork in hand. Make sure your documents are current. Here are a few "time saving" tips you can do to reduce your time in the dealership:
You'll need to bring:
Your driver's license.
An auto insurance card.
A down payment (in the form of a personal check, cashier's check, or credit card payment).
Your preapproved loan from a lender, if you are not using dealership financing.
Your trade-in's 10-day payoff information.
Supporting documents you'll need if you want to take advantage of a special manufacturer rebate, military or business owner rebate for NEW vehicles.
Make sure your documents are current. If they aren't up-to-date or, worse yet, you forget to bring the right paperwork altogether, expect lengthy delays while you and the dealership personnel work out how to get the needed documents. This can be a time-consuming exercise, especially if you're trying to make a deal after hours, over a weekend or during a holiday.
Estimated time savings: 30 minutes
Test-Drive During Your Appraisal
One of the easiest ways to shed downtime is by having your trade-in appraised early during your dealership visit.
After arriving at the dealership and meeting your salesperson, it's time to get down to business. Tell your salesperson you'd like to have the trade-in appraisal process started as soon as possible because you're planning to make this a quick and easy deal. This will do more than get the appraisal going; it will also set the tone for the rest of your visit.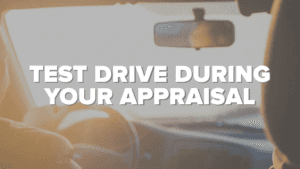 The dealership usually does its appraisal after the test drive is over, while the car buyer waits in the showroom. But it doesn't have to be that way. The appraisal can happen at any time in the deal, and the biggest time-saver is to have two things happen at once: You take a test drive while the dealership does its trade-in evaluation.
A trade-in appraisal for a vehicle is generally a two-step affair. First, the salesperson collects the trade-in's basic information on an appraisal form and receives the trade-in's keys, that gets handed to the used-car manager or sales manager. The used-car manager or sales manager also checks out the vehicle and begins to determine the value. That determination is the part that takes longest.
Your salesperson usually doesn't need to be around while the management team works out the trade-in value. After the salesperson gives the trade-in information to the manager who will determine the trade-in offer, the two of you are free to spend some time in your potential new car. Ideally, the dealership management team will have a trade-in offer ready for you by the time you get back from your initial demonstration and test-drive.
Estimated time savings: 30 minutes
Make F&I Wait Time Work for You
You've done all the hard work, and the deal is almost complete. You've selected the right car, agreed on the deal terms and filled out the initial paperwork. Now it's time to wait for your turn to go to the finance department (known as F&I) to sign final purchase documents. This is usually the longest stretch of downtime in the sales process. Here are a couple suggestions to make the most of it:
Consider extended warranties or other products: Tell the salesperson about any after-sale items you're interested in, and ask for the prices while waiting for your turn in the finance and insurance office. Simply asking, "I'd like to know how much seven-year, 100,000-mile warranty costs" or "How much is GAP (See definition below) insurance?" will usually do the trick. A sales manager will likely know the prices for these products, and can tell you not only what they cost but also how much they will increase your monthly payment if you're planning on rolling them into your car loan. While you're waiting to fill out purchase or lease documents in the finance and insurance office, you can decide if you want the products or not rather than waiting to do it in the finance office. You might even have time to do online comparison shopping so that you can do some price haggling for the products you want.
Estimated time savings: 15 minutes
(GAP or known as Guaranteed Auto Protection insurance is the difference between the cash value of the vehicle and the balance still owed on the vehicle in case something happens, such as the vehicle being declared total to cover that loan.)
Learn Your Car's New Features
Ask your salesperson if he or she can bring over a car that's identical to the one you're buying and show you how to use its features. Getting your lesson while waiting for your turn in the finance office is more than a great way to fill the downtime; it also shaves the instruction time from your salesperson at the end of the deal.
Estimated time savings: 30 minutes
Give the Dealer a Deadline
Here's an approach that could seriously cut down on your time in the dealership: Give the salesperson a deadline to get you out of the finance and insurance office. 30 to 45 minutes is reasonable on a sleepy weekday. However, 60 minutes might be more appropriate if the showroom looks busy or if you're buying your new car on a weekend at most dealerships (depending on market location). If the deal can't be completed in that time, say that you'll be leaving and request to have the vehicle and paperwork delivered to you.
Here is why this works: As a rule, a dealership will want you to do business within its walls. The chances that you will buy that extended warranty or aftermarket product will drop considerably once you leave the dealership. In addition, any contract mistakes or paperwork problems are far easier to fix on the dealership premises rather than at another location such as your home or office. If a dealership is given the option, most will prefer to have the deal done on their own premises. Telling the dealership that if the deal takes too long you'll be heading home is a great motivator to move the process along.
A deadline encourages your salesperson to push the management team to move as fast as possible to get the deal done. A salesperson who has already made a deal does not want it to turn into home delivery, especially on a busy weekend. A salesperson will likely do all he or she can to keep the process moving.
Estimated time savings: 30 minutes
ABOUT THE AUTHOR
MATT GARNER – DEALER PRINCIPAL
I've been in the automotive industry for more than 18 years and have managed and owned car dealerships in General Motors, Ford Motor Company and Chrysler, Dodge, Jeep, and RAM franchised brands. In the automotive industry, I've had titles such as new and used car salesman, sales manager, internet sales manager, general manager and finance and insurance (F&I) manager.